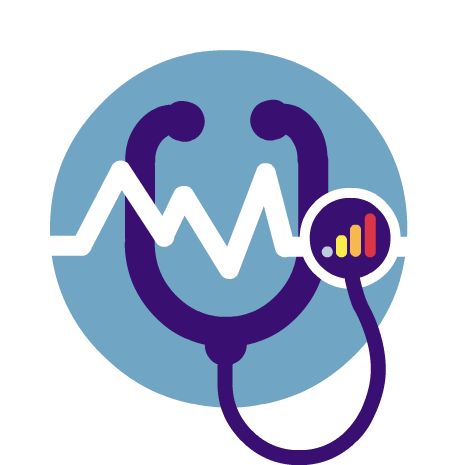 Knowledge = Power
We've resumed our newsletter, but life is not- and cannot be- the same for civil rights in the United States. All communities are affected by mental health trauma, but the African American community is disproportionately affected and underserved in treatment options.


(See lower down in this newsletter for information about an organization doing great work to help with this.)


Everyone is feeling the pressure of this (much needed!) unrest, myself included. I can't go out and protest in person- my health won't let me- so I've embarked on a documentary watching spree to better understand my country's past and present. I was shocked, dismayed, infuriated at how much was left out of my formal education. The friends and family I've engaged with have likewise had their perspectives rocked. American History is Black History, after all, and we all felt woefully uneducated and deceived.


The most eye-opening of these documentaries (so far) for me was PBS's '
Birth of a Movement
' (available free on Amazon Prime).
In 1915, a silent film called 'Birth of a Nation'- while a technical masterpiece in terms of cinema- lauded the evils of Klan vigilante justice.


I was horrified that this film, with its blatant, sickeningly obvious racism and call for violence, was so widely embraced and even publicly screened at the Whitehouse by Woodrow Wilson.


Educated foresighted men and women saw the dangers of this Klan propaganda and tried their best to quell the storm legally and peacefully before the movie was shown across the country, but to no avail. As rightly feared by the activists of the time, 'Birth of a Nation' took the United States by a violent, racist storm, and revived a nearly dead Klu Klux Klan movement.


Even if you're not normally a documentary imbiber, I strongly recommend making the effort on this one. 'Birth of a Movement' gives a level headed play-by-play of events surrounding 'Birth of a Nation' (and its unfortunate impact on the perpetuation of racism) that I wish I'd had in my history classes.



Enterprise Portal for Medical Practices​
We've been busy with the product design for our upcoming eMoods Insights Enterprise Portal for Medical Practices.


The Enterprise Portal will be set up to allow doctors, therapists, and other caregivers to manage all of their patients' and clients' mood, symptom, and medication charts from one convenient place. Medical providers will be able to invite their patients into eMoods Insights with a Pro account, and access patient charts and interact with patients and case managers via a note system.


Medical providers will be able to request a PHQ-9 or configure patient tracking points, including medications, so that a patient may be able to log in and begin their mood, symptom, and medication charting without any distractions.


Patient charts can be shared with a case manager or other doctors and therapists in that medical practice. All providers will be able to highlight any element of a patient's chart and send notes to the patient, other colleagues, and case managers.


The Enterprise Portal is Fully HIPAA Compliant
Here are some early designs of our Enterprise Portal: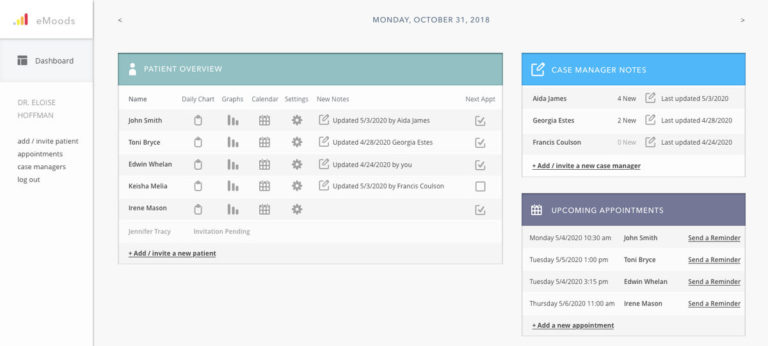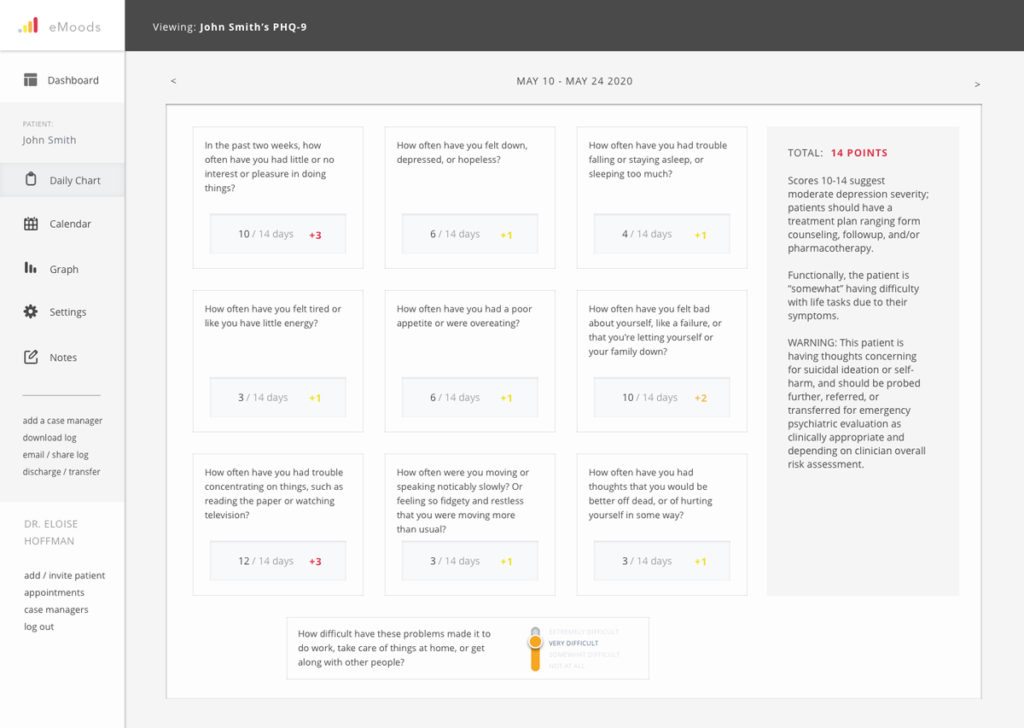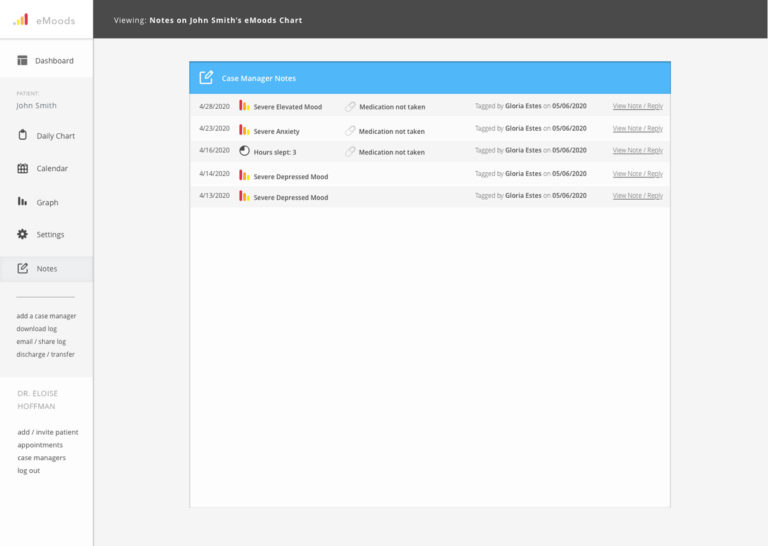 For more information on the eMoods Insights Enterprise Portal, or to join our Beta Pilot Program,
contact us
to schedule a demo for your medical practice!


--

The Boris L Henson Foundation
Founded by Taraji P. Henson in honor of her father, the Boris L Henson Foundation is working to change the perception of mental illness in the African-American community. It's doing great work during the COVID-19 pandemic by providing free therapy sessions.

They're opening 'round 3′ of free Virtual Therapy sessions in the near future. We encourage you to share this organization with your social networks and to donate!


eMoods Insights Full Launch
We're so excited to announce the full launch of our new cloud platform, eMoods Insights. Insights is the "next generation" eMoods, which lets users access the app from any platform and sync their data across devices. There are a number of new features, too:


Privacy and security still remain our #1 concern!
External factors such as weather, daylight, and daylight lengthening/shortening are incorporated into the app to display correlations between moods logged and environmental factors.
Live sharing is now available! Share your chart with anyone on your care team such as your doctor, therapist, family member, or friend.
Log for multiple people- Set up multiple logs for yourself, a spouse, children, or a friend. Keep track of these different charts separately.
Send SMS alerts- set up a daily or weekly reminder and receive an SMS message to your phone.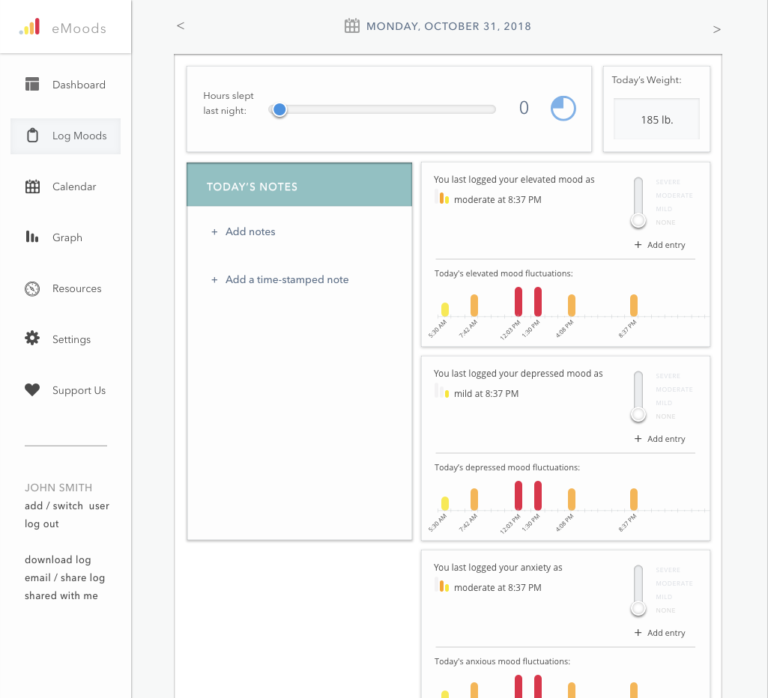 Very near future plans include
multiple mood logs per day
for things like
rapid cycling
, configurable
"trend line" graphs
, and correlation tables. Depicted above is a screenshot of our upcoming multi-moods per day feature.
DON'T WORRY – the eMoods Classic app (from the app store) isn't going anywhere. We will be keeping this app around indefinitely for people who want to continue their logging and store their data only on their phones.

--


Active Journaling and Your Mental Health Treatment
Check out our
blog post
about why recording your own moods and symptoms is so important. The act of doing the recording itself is what makes you more aware of your triggers and symptoms.
Doing this simple act of recording, and discussing the results with a trained professional- your doctor or therapist- can be so much more valuable than an AI automated program telling you when it thinks you may be heading towards an episode.