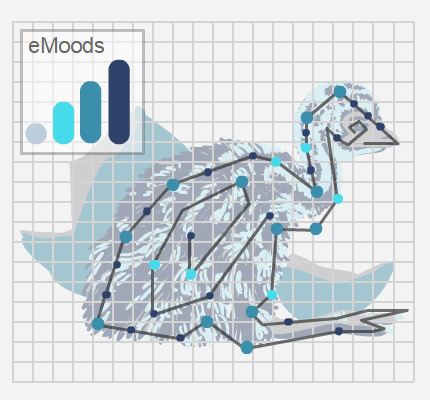 eMood's Origin Story
Ever wonder how eMoods came to be? Starter Story- a website dedicated to sharing the stories of entrepreneurs and their businesses - has the scoop!
In a jam-packed interview with our very own eMoods creator Jon Stavis, they explore how Jon came up with the idea for eMoods and eMoods' founding principles of privacy and respect for users.
Pivotal to eMoods' creation, Jon shares his own mental health experiences and key life values: why a mental health diagnosis shouldn't limit anyone and why it's important to have gratitude in life and not lose sight of what really matters.
You can read the whole story here!
---
The Pink Tax - You May Have Heard Of It
Residents of the United States enjoy non-negotiable tax-exemptions on food 🍲 (or sort of edible things like pixie sticks ) and medication. Even erectile dysfunction medication (Viagra) is tax-free, and often covered by insurance. This is great!
It's also great that the roughly one in seven Americans currently living below the poverty threshold have access to programs such as WIC (Special Supplemental Nutrition Program for Women, Infants, and Children) and SNAP (food stamps).
What's not so great is that menstrual hygiene products are not considered in either of these great programs. 🤔
Wait, wait, even if you're biologically male, keep reading- this impacts people you love- because about 51% of the United States' population is biologically female.
For 51% of the U.S. population, pads and tampons are considered a taxed 'luxury', and federal aid programs (such as SNAP) can't be applied towards purchasing menstrual hygiene products.
In the best of circumstances, this oversight feels like a tax on biological sex. In the worst of circumstances, it's unhygienic and (for those with particularly unkind uteri that are bedridden with pain for 3-5 days a month) job threatening.
Oh, and did you know that women are much more likely to be living below the poverty line than men (with single mom families making up the highest percentage)?
What are we supposed to do when we can't afford a box of tampons? For those of us with a home, are we expected to stay home those 3-7 days a month? 😩 Fat chance for a working mother.
And yet, there are state tax exemptions for things like amusement park rides, college athletic event tickets, souvenirs at minor league baseball stadiums and private jet plane parts.
As of this newsletter, only 20 out of 50 states have recognized that menstrual products should be tax-free.
---
I Hate Video Conferencing - Now I Know Why
Throughout my adult life, I've had the misfortune of coming across video conferencing in both my personal and professional life. Personally, when hanging out with friends remotely to play games. Professionally, when picking up a new remote work gig. I hate all of it.
Of course I hate digital facetime with strangers significantly more than being on the cam with friends, but even time with friends left me spent. It was so easy, and so much less work than going out and actually getting together, so why did I dread it?
Cue the pandemic and the pandemic-driven rise in remote communications and finally, Stanford University and its Virtual Human Interaction Lab had some answers using the Zoom Exhaustion & Fatigue Scale, or ZEF.
In Stanford's February 2021 paper publication, they've so far identified four main causes for 'Zoom Fatigue' (applicable for any video conferencing software, really). I strongly suggest reading the full article, but for the skimmers, I've paraphrased:


You're being stared at by intimately huge faces. All the time. Intensely.


You're watching *yourself*, too, with that little portrait… and we often judge ourselves the harshest.


You're stuck in place and at alert. R.I.P. doodlers and pacers.


You're having to exaggerate social cues and be hyper-vigilant in turn, whether you're aware of it or not.



Thankfully, they've also come up with ways to mitigate the fatigue. In short:


Don't use the full screen option in hopes of stimulating a normal distance between yourself and others.


Turn off the 'self-view' after confirming you're in frame so you're not watching yourself.


Reposition your camera to give yourself some literal wiggle room (or doodle room).


Take audio-only breaks by turning off your camera or even just turning your body (and face) away from the screen.
As an introvert, their findings feel very obvious but the depth of their findings and their proposed solutions is knowledge I'm very glad to have, and the research is still ongoing. You can participate in Stanford's study about Zoom Exhaustion & Fatigue online.
Good luck, video conferencees!
Kate from the eMoods team