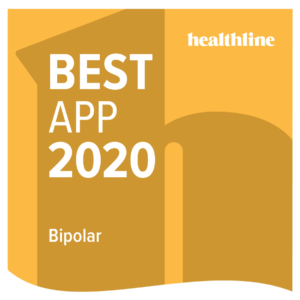 The Easiest Way to Track Your Moods Online or Offline
Recommended by Psychologists, Therapists, and Social Workers
eMoods is a user-friendly app for patients to track symptom data relating to Bipolar I and II disorders, Depression, PTSD, and Anxiety Disorders.

Identify triggers and patterns to help prevent relapses, and enhance doctor's visits with detailed data exports.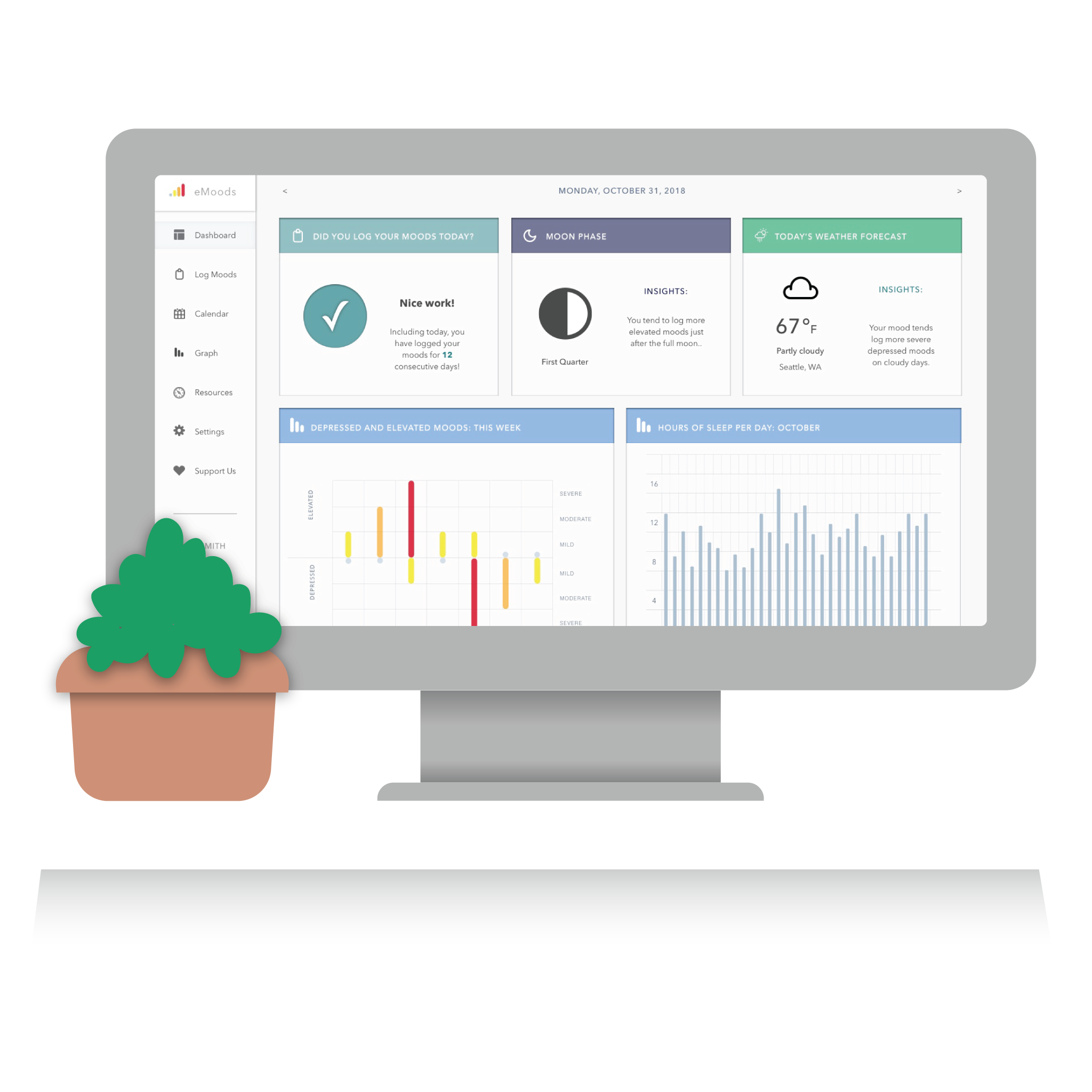 So I was looking for mood journal and I tried a whole bunch of apps but nothing fully fulfilled my requirements. But this app did. I like that you can be depressed, elevated, irritated all in 1 day because our mood changes so much unlike other apps. I'm not Bipolar but I do suffer from a mental health problem and this helps me to track it. I've been using this app since the beginning of June 2019 and I love it. I love the weight tracker and sleeping amount too and I can see how I've changed weight overtime and how much I've slept per day.
First time in 12 years having a serious spiral depressive epsode that this app allows me to better watch my illness and allow me to circumvent having another depressive episode and see and track triggers before they happen.
I love being able to go back and see how I've been doing as opposed to relying on my very subjective and inconsistent memory. I like that I can go back if I missed a day too and that everything's in shades of blue, not red, orange, green, etc. - there are no right answers or judgments on the app.
I have use this app twice a day to keep track of my moods/cycles (as well as a journal) and that works well for me. Where this app is great is it gives information to my doctors that's easy to read and follow. Before I was either forgetting important points since my last visit or poorly communicating how I felt over a large period of time. This app solved both problems. Plus I just have to email the reports to my doctor before I leave for my appointment.
It's a such amazing app, I really loved
I've tried about a half dozen mood trackers and I think eMoods is the best for folks with bipolar disorder!
Clear, concise graphing helps me see trends in my moods and behaviours. Never formally diagnosed with Bipolar disorder, but DMDD seems to go well with this tracker.
My doctor requested that I use this app instead of paper mood charts. I was unsure... but now I love this app. :) It's so convenient from your phone. I have the reminder set so I won't forget to complete it.
Developer very responsive and open to new features and quick implementation.
It's really useful to help your therapist keep track of how you're doing with medication and/or how you do on a daily basis.
I downloaded this app to get a better view of my changing moods and hope to recognize patterns in my behavior. I like how customizable it is and how you can even add timestamped notes if things are changing throughout the day
This has been an extremely useful app to both me and my psychiatrist. Paired with a chart of what "mild, moderate, severe" mean for each mood, tracking my symptoms became a breeze and relaying info to my psych is so easy. After one full year of tracking, I am stable but will continue using this app daily to watch for any changes in mood. Thank you so much!!
eMoods is a free Mood Tracking app that lets you easily chart your daily highs and lows, sleep, medications, and other symptoms related to Bipolar and other common mood disorders. Send printable reports to your doctor or therapist and receive valuable insights about your triggers and mood patterns.
Intuitive mood tracking for everyone
Log valuable mood data including sleep, symptoms, and medications quickly and easily with just a few taps.
Identify triggers and patterns to help prevent relapses
Easy to understand graphs reveal insightful revelations about your mood changes and potential triggers.
Enhance your doctors' and therapy visits with data
Export or share your tracked data directly with your Therapist/LCSW, Psychologist, or Doctor to assist during sessions so you can concentrate on treatment and not information recall.
Create peace by understanding your mind
Knowing and understanding your mood patterns can prepare you to manage the future with confidence. Logging and reviewing your symptoms and other mood data is the first step.
eMoods has been continuously refined over the years to be the easiest and most effective mood tracking tool. Privacy is paramount and your data will ALWAYS be fully in your control.
Printable mood tracking reports
Share and review printable reports with your doctor or therapist.
Create and send PDF reports
Electronically send a PDF version of your report to your doctor or provider.
Rich visualizations, charts, and insights
See patterns in how different symptoms relate to one another. See how patterns change over time.
Secure data storage and backups
Secure encrypted password authentication protects your account. All data is transmitted over an SSL secured encrypted connection. Your data is ALWAYS yours and you have total control over who sees it.
eMoods runs on your phone and desktop web browser. Easily log your mood anytime, anywhere, from any device.