Track your mood and other symptoms effortlessly in seconds.
eMoods is a free Mood Tracker app that lets you easily chart your daily highs and lows, sleep, medications, and other symptoms related to Bipolar and other common mood disorders.

Send printable reports to your doctor and receive valuable insights about your triggers and mood patterns.
eMoods can help you better understand your symptoms related to Bipolar 1 Disorder, Bipolar 2 Disorder, Depression, PTSD, and Anxiety Disorders.

Intuitive mood tracking for everyone
Log valuable mood data quickly and easily with just a few taps.

Identify mood swings and patterns
Easy to understand graphs reveal insightful revelations about your mood changes and potential triggers.

Enhance your therapy sessions with data
Export or share your tracked data directly with your Therapist/LCSW, Psychologist, or Doctor to assist during sessions.

Create peace by understanding your mind
Knowing and understanding your mood patterns can prepare you to manage the future with confidence.
Which eMoods app is right for you?
eMoods Reporting App

eMoods Reporting lets you log your data completely offline, and print a monthly chart to show your doctor.

There is no login and data is stored only on your device.
Offline Data Storage - Data stays on your device
Mobile Only - no login required
Export your data whenever you want
Generates monthly reports for your doctor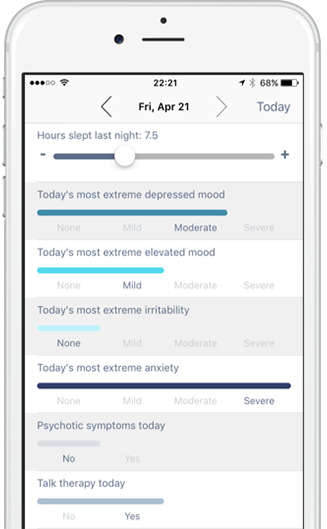 eMoods Insights App

eMoods Insights lets you sync your data between devices and gives you rich charts and insights into your data.

A login is required, but your data remains yours and yours alone- Your privacy is paramount.
Cloud Data Storage & Backups
Syncs to all your devices
Share your data with a doctor, therapist, or family member
Rich visualizations, charts, and insights