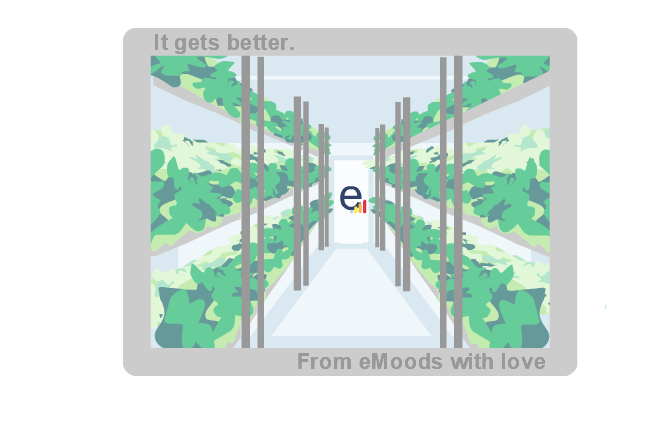 It's the Year of Communal Empathic Understanding
We like to think that 2020 has brought us to the threshold of a kinder world.


One where the complexity of the human condition and our personal limitations – medical, physical, mental- are met with unprecedented open-mindedness and accommodating empathy in daily life.


No one escaped the impact of 2020, and the world's shared experience has increased awareness on how to better take care of ourselves and others. As a result, many business ventures are being forced to reconsider treating their employees with a more human touch, as opposed to being 'cogs in the machine'.


2020 forced us to reimagine the workplace, re-evaluate the value of time, contribution, self-worth. It will continue to evolve, with an emphasis on enablement, health, and community empowerment.


We would like to think that ultra-competitive profit-above-everything-else business ventures are on the way out. And we believe that humanity's communal mental health will ultimately benefit as social enterprises take their place- businesses that have specific social good objectives as its primary goal.


Empowering mission-oriented Social Enterprises are the bright future, in this, the year of Communal Empathic Understanding.


Social Enterprises are "…organizations that address a basic unmet need or solve a social or environmental problem through a market-driven approach."
– The United States' Social Enterprise Alliance's definition of a Social Enterprise

--

Insights vs Classic
We wanted to take a moment to talk about the two different eMoods apps: eMoods Insights and eMoods Classic. Each is for a slightly different audience and we will be keeping both around for folks to decide which is best for them! In this section we'll go over some of the plusses and minuses of each.

eMood Insights:
More advanced mood tracking; still quick and streamlined!
A login is required to save and protect your data
Syncs between devices such as iPad/iPhone/Web/Android
You can share live data with your provider
You can create multiple tracking profiles
Graphs are more detailed and will be constantly improved
Compare your tracked moods and symptoms with weather, temperature, daylight, and lunar phase
Machine Learning mood insights and predictions are constantly being added and improved upon
Includes a rich-featured Free level. Pro level starts at $5/mo

eMood Classic:
Basic mood tracking; quick and streamlined
There is no login or account information
Data is stored only on your phone - no cloud or server database
The only way to share data is by emailing a chart to your provider
Offers basic Dropbox backups
With no centralized data storage, this means if you delete the app from your phone, the data is lost (which could b a good thing if you like!)
Does not sync your data automatically between devices such as iPad/iPhone/Android
No Web interface
Includes a rich-featured Free Level. Pro level $1/mo

The two platforms are not connected. It is important to us that eMoods Classic remains a completely OFFLINE data tracking option for people who value that extra level of privacy. eMoods Insights still uses industry-standard best practices for security and privacy and PRIVACY IS PARAMOUNT in every feature we design and data decision we make.


You can read more about our privacy policy
here
. eMoods Insights will receive full HIPAA compliance in early 2021.
If you've already become an eMoods patron and would like to try out eMoods Insights, please let us know- we are happy to give you a trial credit for several months of pro access.

--


★ VOTE, VOTE, VOTE! ★
If you're in the United States, it should not surprise you that we have an election coming up next week. Whatever your political leanings, one thing that is vital to preserving our democracy/republic is that we all exercise our fundamental right to vote for our elected officials.


Government decisions affect all of us, especially those in the mental health community!


If you've already mailed in your absentee ballot, then great! If you haven't voted yet please make sure to get to the polls on Tuesday November 3 to cast your ballot. You can find your polling place
here
.
If you're not registered yet, many states also offer same-day voter registration.
This resource
will let you know if your state is one of them.
For those not in the United States, we still hope that you exercise all of your available rights to vote in your own country's elections.


It's the Year of Communal Empathic Understanding
Speaking of social enterprises and changing how the world works in the wake of COVID-19, have you ever heard of 'shipping container farming'? Like the social enterprise, shipping container farming isn't 'new', but technological advances have made it much more accessible.


A standard shipping container- you know, the kind you see rolling down the highway on the back of a big 18-wheeler truck- can be rigged out to be a self-contained greenhouse with everything you'd need to have a tiny hydroponic farm- a farm that doesn't need soil, only water, to thrive! It's protected from the weather, it's taller than it is wide (so it fits in cities much more easily than a traditional farm), and provides local jobs and fresher produce.


This containerized approach suits the COVID-19 mindset: local sourcing avoids global or national contamination from importing, and the nature of the small space means it's easy to create and maintain COVID-19 social bubbles for workers.

Best of all? Shipping container farming is incredibly flexible, fulfilling, and enabling for all kinds of folks.


The merits of horticultural therapy are long since proven- we are happier creatures when surrounded by living plants- and the meaningfulness of providing food to the community is one even the most depressed of brains will have trouble refuting.


Currently, many of these local container farming social enterprises focus on employing specific marginalized populations.


Through the Freight Farms and Vertical Harvest website, we saw shipping container farms operations for disabled military veterans (eg.
OD Greens via Freight Farms
) people in addiction recovery, and those with mental disabilities such as Autism and Down Syndrome (check out
Vertical Harvest
).
In our kinder future, we're looking forward to the day where these kinds of jobs are the norm and are so commonplace that anyone can apply for any reason–some of us who contribute part-time to the eMoods app are ready to sign up!


Want to know more?
We suggest reading
'Caring For Plants Helps Nurture Minds'
by Freight Farms
--