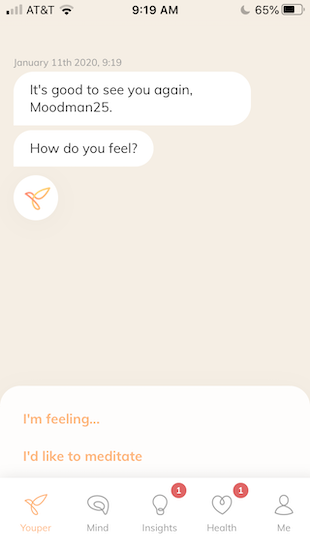 Youper brands itself as your "Emotional Health Assistant." This app utilizes AI to help its users track their moods and monitor their emotional health. Youper also collects anonymous data from its users to, "…unlock a new understanding of the human mind, support us with living happier lives and develop more personalized treatments for conditions like depression and anxiety."

Upon opening the app, users are prompted with a chatbot.
It is here that they log their mood and what is contributing to it. When a user shares their emotions with the chatbot, their responses are charted on a graph to show patterns over time.

Youper also offers guided meditation, personality tests and helps users track their goals. In addition, it helps users arrive at new thought patterns by incorporating techniques from Cognitive Behavioral Therapy, Acceptance and Commitment Therapy, and mindfulness.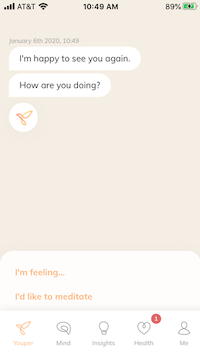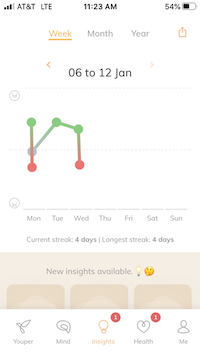 Comparing Youper to eMoods
With eMoods, privacy is paramount. There is no login required, your data is stored only on your device and is never shared or even visible to the developers. eMoods is designed with minimal distractions so its users can log their moods and get on with their day. Youper is designed to engage with users for as long as they want. While Youper does show the correlation between moods and external factors, eMoods lets its users set up custom tracking points such as medication and amount of sleep to see how these factors impact their mood, putting the user in full control over their own emotional intelligence. This is especially helpful for users with bipolar and other common mood disorders. eMoods makes it easy for users to share this data with their doctor and streamlines medical visits.


Youper offers you your own personal AI therapist to help you gain some clarity on your life and mood. Users should be aware that this means their data will be stored in the cloud on a Youper server. eMoods offers you a private, easy, distraction free way to track your mood and treatment plan and gain some control of your mood disorder.