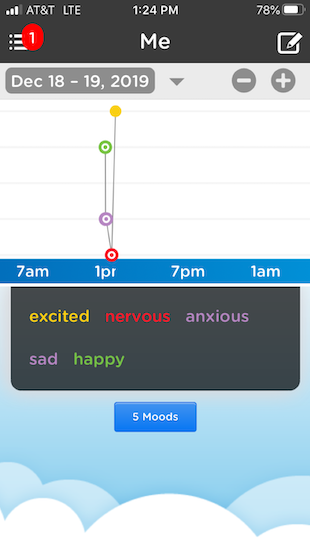 Moodtrack is a personal diary and mood-tracking app. It comes in two versions, Moodtrack Social Diary and Moodtrack Private Diary. In both versions of the app, users can enter a word to describe their mood, and then write a few sentences about why they're feeling that way. This information is stored on a line graph. Over time, users can see how they were feeling over the course of years, months or a particular day.

The Social Diary is free and makes your personal diary visible to all other users. There are side tabs labeled Me, Everyone, Following, and Followers. Under Everyone, users' moods and diaries are displayed in an infinite scroll.
By clicking on a user, you can see their profile and graphs. Like most social media apps, Moodtrack gives you the option to follow other users. Everyone is searchable via their username. The Private Diary gives you the option to make your entries invisible to other users. All of your entries are shareable via email and text.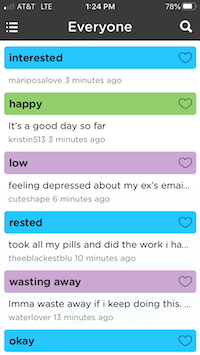 Comparing Moodtrack to eMoods
Moodtrack is a direct, easy to use app. It is excellent if you just want to chart how you feel over time. eMoods is a bit more specific. It is geared towards people with mood disorders who want to track not only their daily highs and lows, but also things like sleep and medication. This puts users in control and allows them to share their data with their doctors and dictate their needs, not the other way around. eMoods holds users' privacy above all else and does not require an app login. Both apps offer easy to use mood tracking and data sharing, but if you're ready to gain some clarity on your symptoms and make adjustments to improve your mood, eMoods will help you get there.