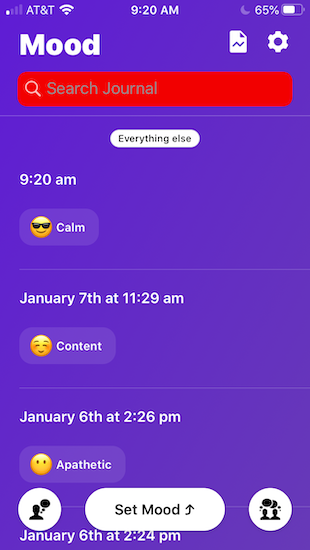 Mood - Journal & Anxiety Chat vs. eMoods
Mood – Journal & Anxiety Chat is a mood-tracking app that gives its users a platform to express whatever is on their mind. It offers anonymous posting, live venting, and a way to journal. Mood aims to help users analyze their thoughts and better understand what's on their mind.

To log your mood, first, you select an emoji from a long list that best corresponds with your emotions.
Then, you have the option to write a few notes to go along with it. The Calendar view lets you see how you felt on a particular day.

In addition to personal mood tracking, Mood provides two outlets to post anonymously about whatever is on your mind: Live Venting and Let It Out. In Live Venting, you're given two minutes to say whatever is on your mind. In Let It Out, users can post about their thoughts, struggles, emotions, and whatever else is on their mind.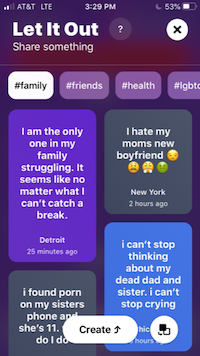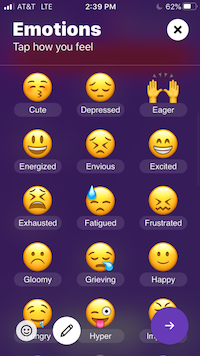 Comparing Mood - Journal & Anxiety Chat to eMoods
Both Mood and eMoods help users track how they feel over time and recognize personal emotional patterns. Mood places a lot of value in social dialogue as a way to help people deal with their emotions. eMoods functions more as a tracking tool for people with bipolar and other common mood disorders who want to track their mood and treatment.


eMoods generates reports that can then be shared with a doctor. This helps keep everything in one place and removes human error when trying to recall a month's worth of info at a medical visit. Over time, in conjunction with the care provider's approval, eMoods could reduce the frequency of care visits.

We are social creatures and can benefit greatly from sharing our emotions with others. Mood is great for this. But if you're looking for a way to get to the bottom of your mood disorder- privately- and dictate your needs and symptoms to your care provider, eMoods is worth checking out.