eMoods provides a suite of mood, medication, and symptom tracking applications that can help users better understand symptoms related to Bipolar 1 Disorder, Bipolar 2 Disorder, Depression, PTSD, and Anxiety Disorders. Detailed below is the full list of offerings that can be customized.
---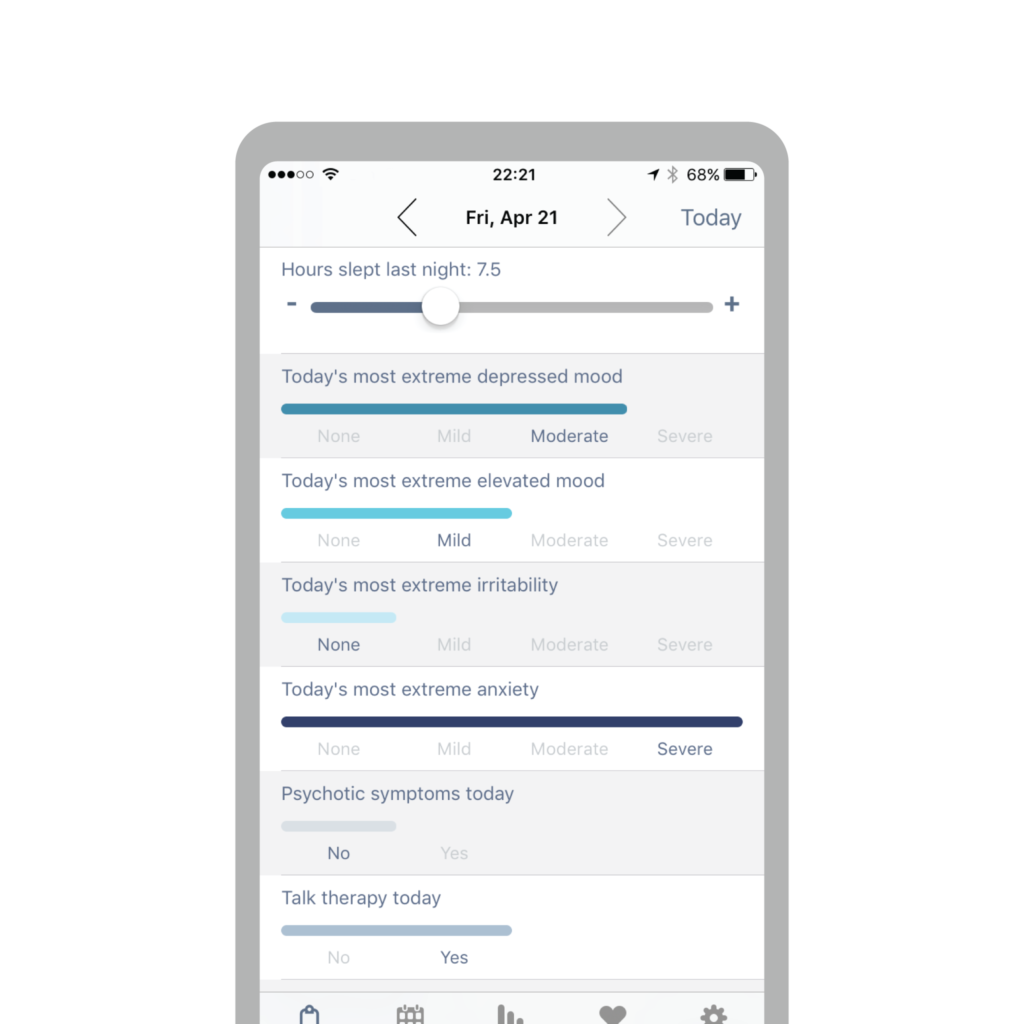 eMoods Classic
eMoods Classic is available in both the Google and Apple app stores. With completely offline, on-device data storage, the eMoods classic app is designed for partners looking to offer their users a high degree of privacy. eMoods Classic allows users to track data on their mobile device, and send a printable PDF report to their doctor or therapist at the end of each month to help identify patterns, triggers, and other events relevant to treatment plans.
---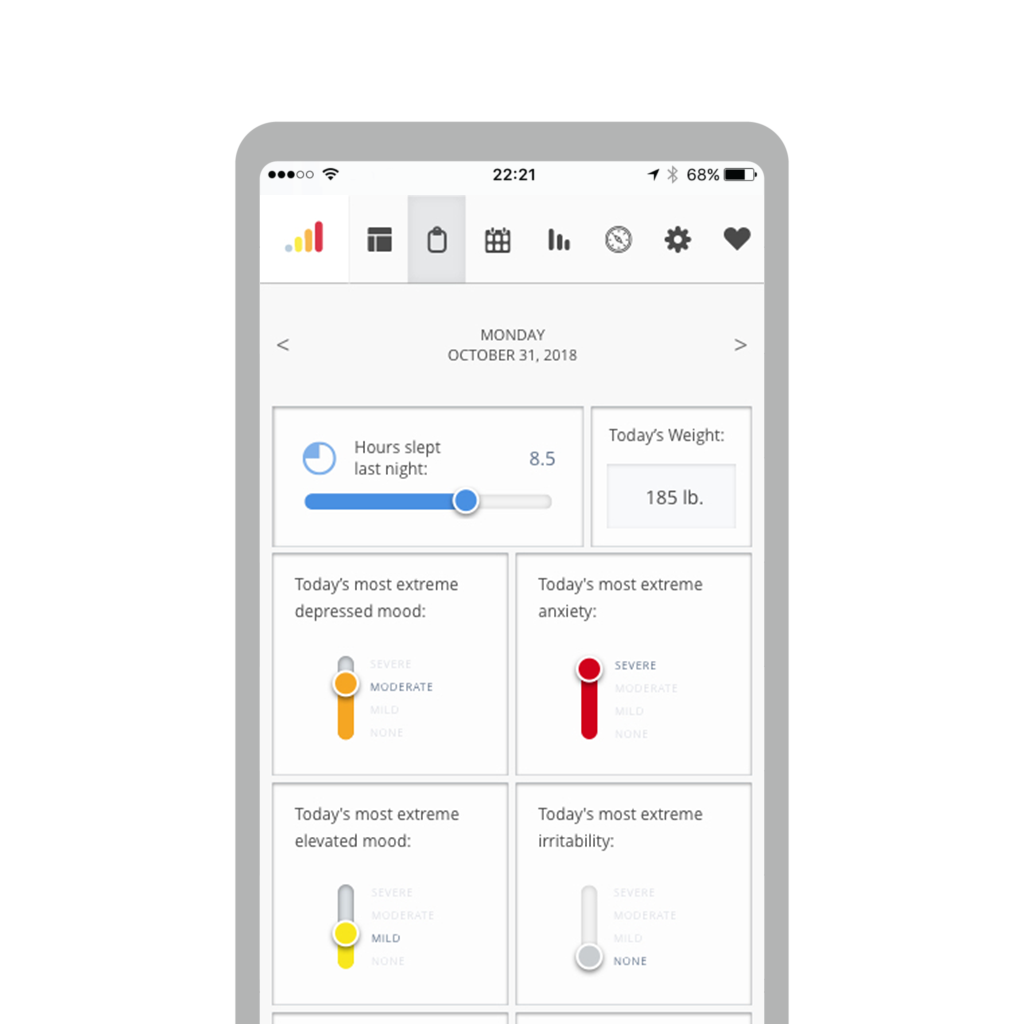 eMoods Insights
eMoods Insights takes mood tracking to the next level, giving partners the ability to see rich insights about user moods and their external influences. A fully configurable dashboard provides vivid and rich visualizations into mood patterns. Insights includes all features of eMoods Classic, plus:
Weather/daylight/temperature data feeds
Machine learning processing
SMS alerts
Live profile data and status sharing
Cross device syncing
Mobile-optimized shortcut app
Intra-day, rapid cycling symptom tracking
Advanced tracking points such as streaks, counters, and emojis
Fully HIPAA compliant
---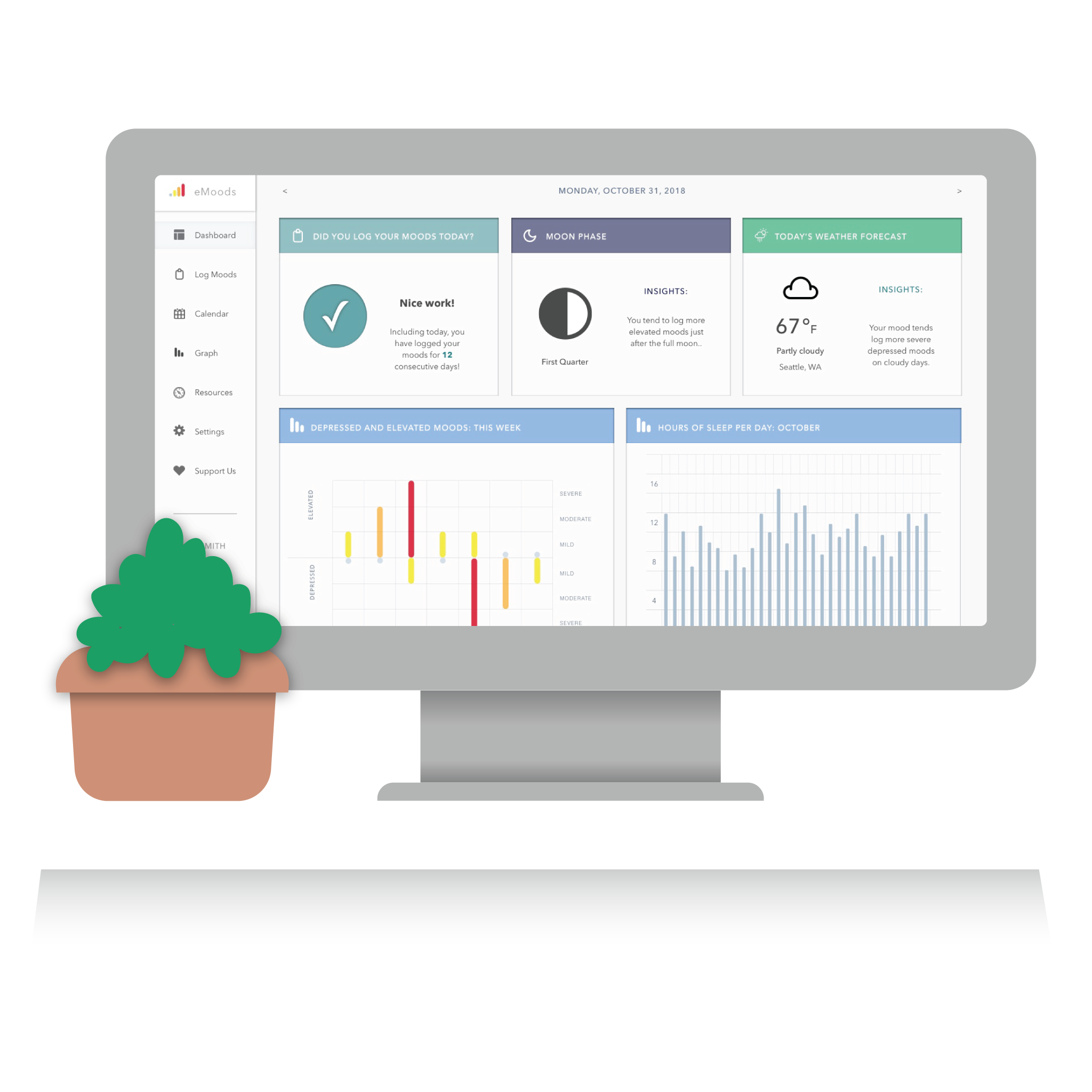 eMoods Enterprise – coming soon in June 2021
Designed for medical and therapy practices, eMoods Enterprise includes all the features of eMoods Insights plus:
A portal for doctors and therapists to invite and configure patients' tracking points
Messaging platform providing communication between doctors, patients, and case managers
Fully HIPAA compliant
Additional information on private labeling for eMoods Enterprise will be available in June 2021.
---
Partnerships and Private Label Solutions
Option 1 – eMoods Insights Private Labeling
Our most customizable and flexible option. Fully private label our cloud-based eMoods Insights app with your branding for a one-time fee. Enhanced or Pro level user subscriptions are required.
Custom partner login domain (eg. moodtracker.mydomain.com)
Custom branded user experience with partner logo, colors, resources, verbiage
Access to ALL live eMoods Insights updates automatically pushed to your custom app without additional costs
⭐ No outside approvals required by Apple or Google app stores ⭐
Deidentified HIPAA-safe user engagement data made available to partner for analysis
Custom app development, reporting development, and data analysis development is available.
Optional SLA Support available, including: a dedicated eMoods account manager, a dedicated Slack channel for questions and support, 99.99% uptime guarantee with service credit, a dedicated server infrastructure from your chosen provider, and Beta Access to R&D Features
---
Option 2 – eMoods Classic Private Labeling
Our eMoods Classic app will be custom branded with your name, app store listing information, logo, colors, resources, and other verbiage for a flat rate per published app instance, plus Pro Level features for $1/user/month. eMoods Classic private label is good for companies who want to offer their users on-device data storage and privacy, however:
⚠️ Custom development will be required for any changes or updates to each app instance. Maintenance and development contract is required.
⚠️ App store listing must be published under Yottaram LLC's developer account, and requires outside approval by Apple and Google which is not guaranteed.
⚠️ No user engagement data is available due to on-device data storage.